Rittberger Meats is Giving Away $200 of Meat Monthly.

Good products sell themselves. That's why at Rittbergers we give away $200 worth of meat each and every month to existing and/or new customers. We even include promotional signs to assist you in getting a good start with our products. We are confident that once a store offers our products they will come back time and time again because as the old saying goes
"good products sell themselves."Simply fill out the form at the bottom of this page and you are entered in to our monthly drawing for $200 of meat products FREE for your retail location. Certain terms & restrictions apply click here for details.Ask a Rittberger sales person about other current promotions.
Wholesale Meats and Sausages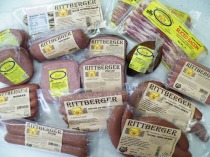 At Rittberger Meats the core of our business has always been supplying retail stores, taverns, restaurants and convenience stores with our premium products.

For over 100 years our premium meats, lunch meats, and sausages have brought customers back time and time again.

Four generations have owned and operated Rittberger Meats while observing Grandpa's tradition of uncompromising quality. Because of our commitment to quality, we still use the same recipes and procedures that Grandpa pleased his customers with from the start. We continue to raise cattle on over 450 acres. We still use the same masonry smokehouse fired with 100% real hickory wood harvested locally through sustainable forestry practices. So if quality and 'Old World' flavors are what you are looking for, then look no further.
---
Nutritional Value

Not all meat products are created equal. We have known for generations that our products are superior to other like products. Now we have the scientific evidence to back up that belief because a recent evaluation of nutritional values performed on our products proved Rittberger Meats are the healthier choice. One example of this fact is our Old-fashioned Hickory Smoked Bacon with only 75 mg of sodium per serving. Across the board our products are superior in taste, quality and nutritional value.
What Has happened to the Meat Industry?

Over the years, the meat industry as a whole has cheapened processed-meat products to the point that they are neither desirable nor healthy. Because of this fact we sometimes come across people who tell us that they do not eat 'that type of meat'. We encourage those people to try our meats, and when they do they are shocked by the superior flavor and obvious quality of the product. Our products are truly what processed meats were decades ago and should still be today.
What Sets Rittberger Meats Apart From the Rest?

Superior quality, taste and nutrition are the foundation of successful retail food sales. But let's face it, if customers don't try our products they will never know what they are missing!
A
t Rittbergers we know if you are successful selling our meat products in your retail location and your customers love them that's a win-win for all...you, the customer, and us at Rittbergers!
With that in mind we publish a monthly newsletter that is devoted to one thing... helping you increase your bottom line by offering our products
. We share everything we have learned over the last 100 plus years when it comes to helping you sell more and keep customers coming back time and time again.
We cover topics such as:
Selling more - even in a down economy (this isn't the first economic downturn we have experienced in our 101 years in business)
How to capitalize on the current consumer trends - just knowing these can make a huge difference.
Pricing techniques and strategies
Display tricks that draw customers like a magnet
Calculating order quantities to optimize sales and minimize loss
much much more!
How many companies that you purchase from are working overtime to help you be a success? We look at our wholesale customers as friends. And friends are in this together. That's the Rittberger Difference.
Call us today 740-452-2767 or use the contact form below. Let's talk about how we can work together. We can go over pricing and answer any questions you have.
To your success,
Andy Rittberger
Carl Rittberger Sr., Inc.
1900 Lutz Lane
Zanesville, Ohio 43701
740-452-2767