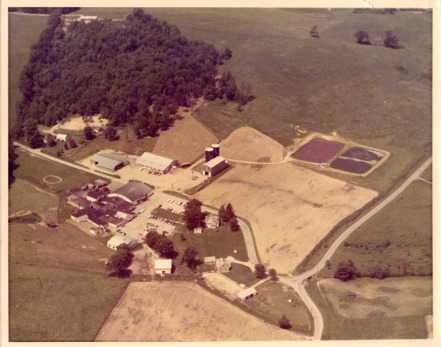 Our History
Carl Rittberger Sr. (Grandpa) was born in Lorch, Germany where he went to meat trade school before coming to the United States in the late 1800's. Grandpa settled in Zanesville, OH and acquired a small retail trade at the Zanesville City Market.
On September 22, 1910 Grandpa expanded into the wholesale business at his farm on Lutz Lane.

In the early days, Grandpa rode on horseback throughout the county purchasing livestock and driving the herds back to the plant. As his business grew, he purchased some 800 acres and began raising his own livestock to keep up with the demand for Rittberger Meats. Quality was always Grandpa's number one goal and is still ours today.

Today
Four generations have owned and operated Rittberger Meats while observing Grandpa's tradition of uncompromising quality. Because of our commitment to quality, we still use the same recipes and procedures that Grandpa pleased his customers with from the start. We continue to raise cattle on over 450 acres. We still use the same masonry smokehouse fired with 100% real hickory wood harvested locally through sustainable forestry practices. So if quality and 'Old World' flavors are what you are looking for, then look no further.

Nutritional Value
As you well know, not all meat products are created equal. We have known for generations, in our hearts and minds, that our products are superior to other like products. Now we have the scientific evidence to back up that belief because a recent evaluation of nutritional values performed on our products proved Rittberger Meats are the healthier choice. One example of this fact is our Old-fashioned Hickory Smoked Bacon with only 75 mg of sodium per serving. Across the board our products are superior in taste, quality and nutritional value.

Over the years, the meat industry as a whole has cheapened processed-meat products to the point that they are neither desirable nor healthy. Because of this fact we sometimes come across people who tell us that they do not eat 'that type of meat'. We encourage those people to try our meats, and when they do they are shocked by the superior flavor and obvious quality of the product. Our products are truly what processed meats were decades ago and should still be today.
Our Customers Agree
About seven years ago a man approached me about processing products for his company. He was looking for a company that could do everything from start to finish, from roasts and steaks to burgers, hotdogs, hams, and everything in between. I shared the story of our company and told him about the quality of our products. The man was hesitant about trying our products assuming that he and his wife would get sick just as they had after eating processed meats from other companies. However, he cautiously agreed to try our products. The man contacted me a couple days later very excited. He shared that he and his wife were amazed because they had enjoyed all the products I sent home with the man, and much to their surprise neither of them experienced any ill-effects after eating our products. Today, four years later, we are still producing beef and pork for him at Kenyon College in Gambier, Ohio.
Our Invitation to You
Our family's tradition and commitment to quality has made Rittberger Meats the taste of southeast Ohio for over a century. Today, we invite you to make our family's tradition a part of your family's tradition.
We have been apprehensive about saying our products are the best because we do not want people to think we are arrogant. However, this statement is not arrogance; it is passion and confidence…
Our products are Simply the Best!

Please do not take my word for it, try them for yourself today.

Andy Rittberger
3rd Generation
President
Carl Rittberger Sr., Inc.