---

Welcome to the Smoke House

Nothing duplicates the taste of meat smoked in our authentic 100 year old masonry smokehouse. Our authentic smokehouse uses only real hickory wood that has been harvested locally using sustainable forestry practices. This old-school method gives our smoked meats a distinct rich flavor you simply will not get from liquid smoke and 'modern technology'.

For years smokehouse companies have tried to get us to purchase a new smokehouse with all the latest gadgets. They assure us that modern methods and equipment could increase our profits and speed up our production processes. They can probably do all of those things; but, we have no intention of changing because we know perfection takes time.

If uncompromised quality and true old-world flavor is what you enjoy, then we invite you to try our gourmet smokehouse products today.

Shipping will be on Mondays or Tuesdays to avoid shipment being held in warehouse over a weekend.




Old-Fashioned Hickory Smoked Ham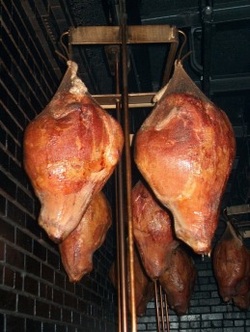 Make our family's tradition part of your family's tradition, bring a Rittberger Old-Fashioned Hickory Smoked Ham today!

Comes complete with a cooking bag and cooking instructions




Average Weight: 16 to 18 lbs. each

$79.00 plus shipping

1/2 Ham 8 to 10 lbs. each

$49.00 plus shipping

---
Ol' Hickory Smoked Ham with Sassafras Glaze

Spiral Sliced and Sassafras glazed, comes complete with baking bag and cooking instructions;
so that even the inexperienced can enjoy a taste from the past.
Take your family back to the good old days, bring a Rittberger ham home today!


Approximately 16 to 18 lbs. each
$99.00 each plus shipping

---
Old-Fashioned Hickory Smoked Bacon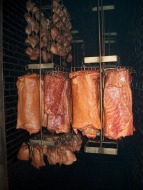 Premium Quality Center Cut Old-Fashioned Hickory Smoked Bacon

LOW IN SODIUM - Only 75mg of sodium per serving... WOW!

In addition to the superior taste and quality, Rittberger Bacon is also low in sodium compared to other bacons on the market today. If you have never tried our products, our bacon would be a great way to introduce yourself to Rittberger Quality.
Simply put...

THE BEST BACON YOU HAVE EVER EATEN!

---
Old-Fashioned Smoked Turkey

Old-Fashioned Hickory Smoked Whole Turkey
Follow our cooking instructions to the best Holiday Turkey dinner you have ever had!
Once you try our Smoked Turkey you will never eat a traditional turkey again.

Available during Thanksgiving Only!

Average weight: 16 to 18 lbs.
Cost $89.00 plus shipping.

---