Original Smokehouse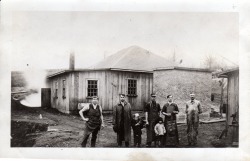 1910. The brick building in the background is the original smokehouse, which is the nucleus of the existing plant. The children in the picture are the eldest sons of Carl Rittberger Sr., Carl Jr. (Red) and Harry.
---
Harvest Time
Chopping corn silage and filling silos.
Carl Rittberger Sr. in the middle at the grinder.
---
Old Delivery truck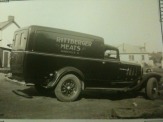 Not sure what year this is, I'm guessing in the 30's.
---
Employees of 1937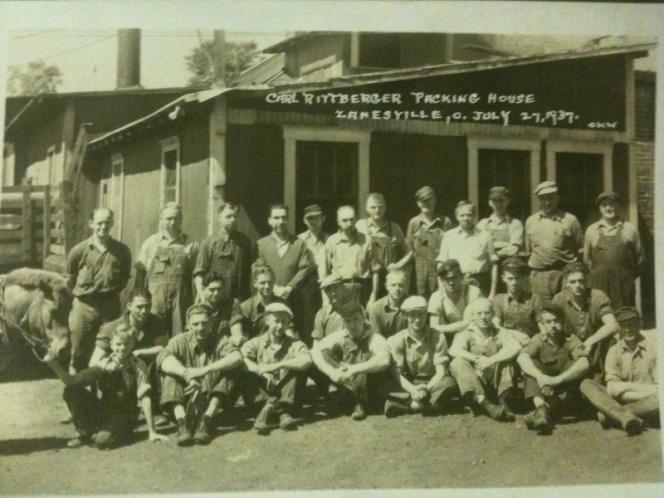 Front row Left: George Rittberger Sr. (my dad at 12 years old with his pony), Guy Snoots, John Achauer, Lewis McCloud, Donald Walker, Chris Kafka, Otto Rittberger, Joe Leitner.
Second row left: Al Sperback, Gustav "Gus"Schneider, Woddy Kirkbride, Walter Rittberger, Ben Curry, Baz Roberts, Gerald "Buck"Wickham, Keith "KB" Hayes.
3rd row left: Buck Harsch, Carl Red Rittberger, Chris Rittberger, Frank Madinger, John Minth, Den Jones, George Ziegler, Bill Luman, Carl Rittberger Sr. (grandpa), Steve Douglas, Dutch Pavlock, Eddie Kohler.
---
Pork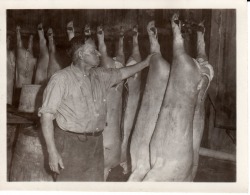 Grandpa posing with his current pork supply.
---
The Plant in the early years.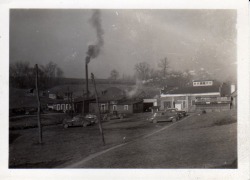 ---
Cattle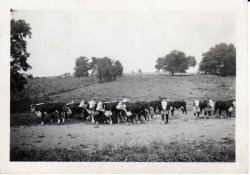 Grandpa used to travel to the Dakotas as far back as the 1930's to buy feeder cattle and send them back by train to Zanesville. Dad told me of stories hauling cattle from the train depot, downtown, for 48 hours straight to get all the cattle home.
---
Workhorses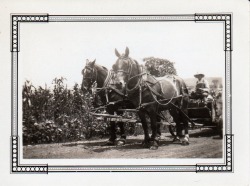 Representative picture of the horses that were used throughout the farming operations.
Dad told me that they would always have 20 to 30 teams of horses and mules on the farm, to work the fields. Horses and mules were utilized well into the 1960's, before tractors and trucks started to become a bigger part of the farming operations.
---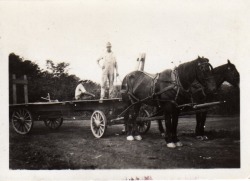 Congratulations!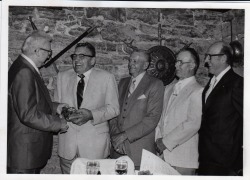 President Harry Rittberger Congratulating Keith (KB) Hayes, Gustav (Gus) Schneider, Gerald (Buck) Wickham, and Roy Jr. (uncle Fuzz)(June) Butler on 50 years of service each to Carl Rittberger Sr., Inc. These 5 gentlemen at this time represent over 250 years of combined service to Carl Rittberger Sr., Inc.
---
Main homestead and plant.
1992
---