Andy's Private Stock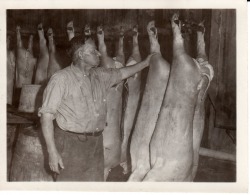 Imagine with me for a moment Andy Rittberger has some guests he would love to impress with a meal of Rittbergers finest beef or pork.
On his daily rounds through the shop he carefully examines steaks, roasts, chops, and maybe some bacon to garnish a special dish he's planning. He selects only the finest cuts based on his lifetime of involvement at Rittberger Meats, quite possibly the
best kept secret in Ohio.
His guest that evening are stunned at the quality, taste and texture of the foods they enjoy. The perfect steak, the unbelievable flavor of the old fashioned hickory smoked bacon.
The end result? A lasting impression and a fine evening among friends who appreciate the time and care that went into this evening for everyone's enjoyment.
While this has long been a tradition of the the Rittberger family, Andy has decided to offer this service to a select few.
Obviously all of Rittberger meats has to reflect the quality and values of what
Rittberger Meats
stand for. However, this "private stock" is hand selected by Andy himself and is clearly a "cut above' the high standards embraced by every member of the Rittberger team.
---
Make a Lasting Impression

For a limited time Andy will be accepting members into this exclusive club. Whether you want to impress your friends and family or enjoy a exquisite meal by yourself, Andy's Private Stock is your ticket to meats that are a cut above the best.

To apply for membership and get more information simply fill out the form below or stop by and see us.